The first thing EVERYONE says is :-
"My Dog/Cat/Horse has never been in a studio and we'll NEVER get them to do this!"
Well – none of these little munchkins had been in a studio either ….. and every one of their corresponding humans thought the same!
Yes….it might be chaos! But I've been doing this for over 30 years so whatever chaos you're bringing will be nothing new!!
THE LOCATION COMMISSION – £450 (All inclusive)
A beautiful session out on a location of your choice* with dogs, horses and whatever humans you would love to include!
The beloved session of horse riders your one hour session will give time for some beautiful portraits of the two of you together with multiple outfit changes.
This is also the chosen session for those beautiful relaxed, candid and honest portraits of you on those gorgeous early morning walks with the dogs
INCLUDED IN YOUR SESSION FEE
Your pre-session consultation to find out EXACTLY what you would love
60 minutes of photography
All of the beautifully edited digital files from your session
Your absolute favourite as a Fine Art print framed at 16×12
A £100 gift voucher to put towards an iconic 'Story of Us' Italian Album if you so choose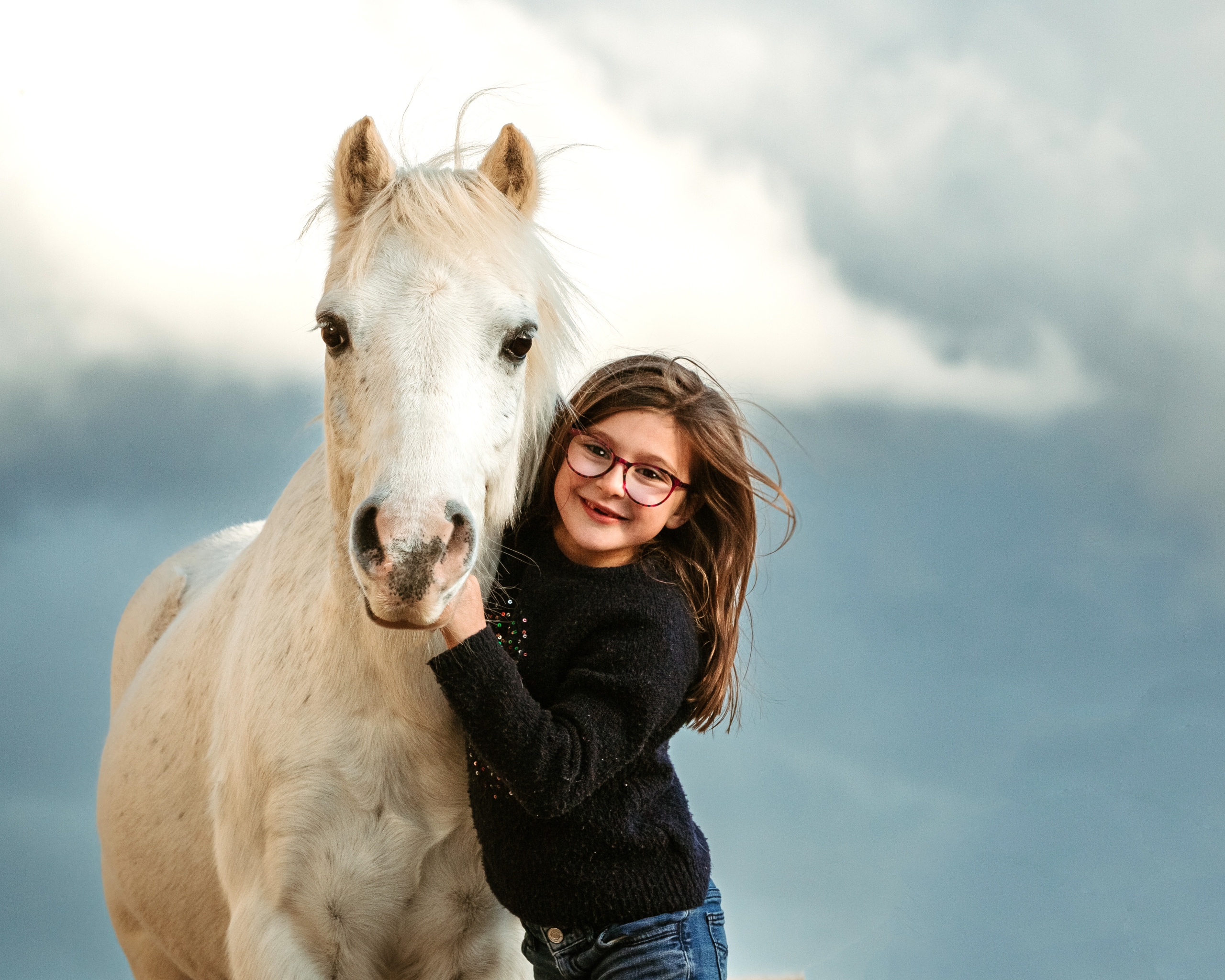 FREQUENTLY ASKED QUESTIONS
Why do Location and Lifestyle Commissions include ALL of the images and studio commissions don't? And what is Soft Proofing?
If you are booking a studio commission of your pet there is every chance that you just want ONE image – a beautifully finished portrait to hang on your wall. Sometime clients will want two to hang as a set. Or maybe three.
But you probably won't want 20 images from this session.
Because of this there is absolutely no point me editing 20 very similar studio portraits. You would not commission an artist to paint your dog and expect him to paint TWENTY different portraits and ask you to then choose your favourite! That would cost an absolute fortune.
And I want you to pay me only for the work you want me to do . So I charge an initial session fee and then you simply choose and pay for the images you want me to 'finish' for you.
Like most professional photographers I shoot RAW images. This means that they are not finished at the point of clicking the shutter. Every one of your beautifully finished portraits can have up to an hour spent on it in post production!
'Soft Proofing' is when I show you these unfinished portraits before anything is done to them. This allows you to choose your favourite or favourites and means I won't be charging you for beautifully editing images of your horse for you to then tell me you don't like the way he is resting his hind leg! You will know your pet SO much better than me. I want you to choose the one that most captures his conformation AND character and THEN I will weave my magic to produce something beautiful!
In contrast Location and Lifestyle sessions are 'storytelling' sessions that include a huge range of different images in different places and situations – and I know before I even pick up the camera that you will want them all! If we have been on a walk together you will want the one of you two together. The one of your dog catching the ball. The one of him running flat out through the woods. And the one of him jumping in the river! It is so difficult with these sessions to choose just ONE image. One image does not tell the story.
Where the editing style for documentary photography is much simpler and slightly less time consuming these sessions are priced for me editing every single image for you and then letting you have them all.
Because THAT is a proper story.
I want both. Can we do a studio AND a location session on the same day?
Most of my clients, at some point, have a commissioned portrait AND a documentary session. Some clients have a commissioned portrait and then have a documentary session every year!
Technically we can do them on the same day – my studio is here on the farm so we can leave the studio and disappear off into the fields.
However, unless you are travelling a long, long way to get to me, this wouldn't be something I would recommend. It can be quite overwhelming and tiring for both dogs and horses to be in a studio one minute and in unknown fields the next.
But talk to me. You will know your animals better than me .
Do we have to come to you?
No. In fact I would PREFER to come to you for Location work. Your own location as a backdrop to your images will mean SO much more to you in years to come when you pick up your album!
The majority of my studio commissions ARE done here at the studio in East Haddon. However – if it is easier (for instance if we are photographing a lot of horses or dogs on the same day) I am happy to bring the studio to you subject to suitable facilities being available such as an indoor school or a large barn. Because of bio-security standards here on our own farm all farm bovine commissions will be undertaken at your own location.
Just pick up the phone and lets have a chat. I work Nationwide so it doesn't matter where you live or where you are going on holiday (yes – my clients DO ask me to join them on holiday for location sessions. What could be easier? All the family together in a photo AND pictures of your dog on the beach!)
WHAT DO I DO NOW?
1. Check availability for your favourite day. I only ever do one of these sessions a day so pick any available date and time IN THE ANNIE BEE DIARY
2. And that's it!! It really is as simple as that! Once I have your booking I'll give you a call and we can have a chat about who you are bringing and what you would love!
However, if you're not quite ready to book and just need some more information?
Give me a call – 01604 770013
I look forward to photographing your most precious things!
Annie x
Annie Bee ASWPP AMPA – Master Photographer
Wildlife Photographer of the Year (Midlands) 2021/22
Pet Portrait Photographer of the Year (Midlands) 2018/19 and 2019/20
Finalist – UK Pet Portrait Photographer of the Year 2019
Finalist – National Dog Portrait Awards 2019
Lifestyle and Location Portrait Photographer of the Year (Midlands) 2019/20