The Consultation is the posh description for what happens before your portrait session.
Basically, we chat – sometimes on more than one occasion – about what it is you would love to happen on the day.
About what you would love as a final set of images.
About what you are worried about.
About all the things you are convinced will go wrong.
In a nutshell I try and get inside your head. To find out what is important to YOU (not me. This is NOTHING about me and what I do! This is about YOU)
And sometimes this is R.E.A.L.L.Y difficult. And it is always really difficult when you are a fully-fledged women and are booking a portrait sitting for yourself. YOURSELF!!! You can always tell me EXACTLY what you want if you are bringing the children. Because it's about them. But, oh my goodness, if it's all about you…….. !!
Like Sophie.
Sophie originally popped into my life as a 'comment' underneath another clients image that I'd shared on Facebook:-
"Oh I so want me and my boy in a photo like this!"
Sophie's 'boy' was Hugo, a beagle rescued from the Dogs Trust some three years earlier. When he had first arrived with Sophie he would not accept any form of human contact. In her own words he had since turned into a "cuddle bug" and was obviously the apple of her eye.
A flurry of messages later she decided to book Hugo a portrait sitting.
However, in the consultations/chats that followed there was little mention of HER. I was puzzled? I knew that she'd already commented that she wanted a portrait of "Me and My Boy" .
I knew she'd booked this session as a birthday pressie to herself on one of those Big Birthdays that we can't quite believe we've reached.
And yet this was very much turning out to be a PET portrait session…..owner not included!
In truth, and what was happening was – like so many women – she was absolutely terrified of being in a studio as the centre of attention and in front of the camera.
And this is why the initial consultation is SO important. If I don't get inside your head I may never know that what you are telling me isn't actually what you want.
In the weeks running up to her portrait session we unpicked the issues between us. I got a handle on what Sophie REALLY wanted and we put things in place to make that happen for her. And sometimes those things might be super simple…. Such as bringing her GORGEOUS daughter with her for a little bit of moral support and to make it more of a 'day out'!
And when she was despairing of what she could possibly wear simply asking what, in her wardrobe, made her feel like herself?
Orange dungarees?
Well…..wear those then. Because what we actually want here is a portrait of you being you.
So now Sophie – resplendent in those orange dungarees – has the "Me and My Boy" that she always wanted hanging on her wall as a 32" Classic Art Frame.
A birthday present to herself.
And every time she looks at it she will remember something that she told me in those early days -long before I ever picked up a camera:-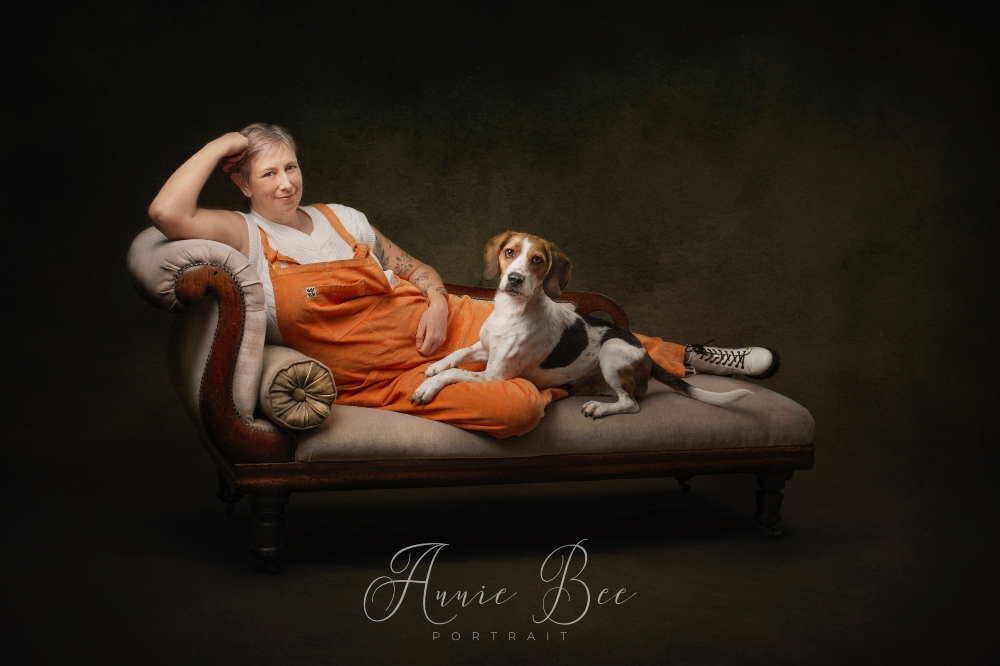 "I am blessed that he chose me to be his human"